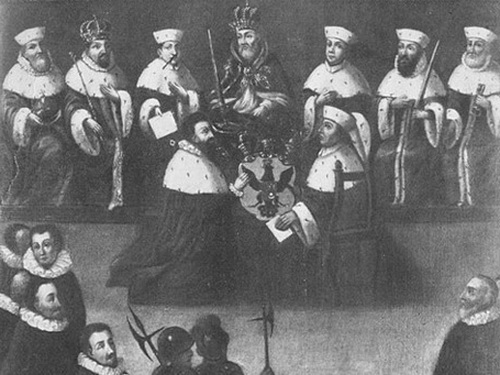 Legend "Radziwills"
Radzivills - the richest family in the Grand Duchy of Lithuania, in 1517, the first in the Grand Duchy of Lithuania to be awarded the princely title of the Holy Roman Empire. The family coat of arms with the motto "God advises us" (Polish. "Bóg nam radzi").
Wanting to exalt the lineage, the Radziwills derived their origin from the ancient Roman aristocracy. The ancestor of the Radzivils house was considered Dorsprung, who traveled by sea to Lithuania and founded the Ramnov settlement (New Rome) there. One of his heirs was the High Priest of the Pagan Lithuania Krivo-Kriveyshe. He firmly fell in love with the beautiful litvin woman. They had a son, whose father, as a priest, had no right to educate himself. The young mother died in childbirth. Krivo-Kriveyshe came up with a cunning plan. Princes often came to him. One of them, Narimunt, did not have a son-heir. He asked the priest to beg from God Perkunas heir for him. The clever priest took advantage of this. When Narimunt, who loved to hunt, once again came to him, the priest ordered him to put the little son in the cradle, decorate it with flowers and ribbons and hang it on a tall tree. During the hunt, the dogs brought the prince and his retinue to a mysterious tree, near which there was no game. The hunters looked up and saw an object among the leaves. Basket removed. There was a great "miracle" - a boy, healthy and beautiful. Krivo-Kriveyshe told Narimunt: "Here is the God of Perkunas to you and sent a son. Grow a child as a native, and listen to everything, because every word of him will be the voice of God himself. "
The baby was named Lizdijk, which means in Lithuanian "found in the nest." The boy, who was growing up quickly, was revered, his advice was always considered. Once, Grand Duke Gedimin himself turned to Lizdeika for help. It was necessary to explain the unusual dream that the prince had a dream when he spent the night in the valley of the Holy Horn: a powerful iron wolf howled to all four sides of the world. Lizdeika explained the dream this way: in the place where the prince spent the night, you need to build a big city so that its glory spread throughout the land. Thus arose the city of Vilna. It was after this that the nickname Radzivill was added to the name Lizdeyka - from the Belarusian word "radzits" (advise). Several generations of heirs Lizdeyki used this word as a nickname, and then it became the name of a powerful family. The initiator of the the Nesvizh family line was Jan Radziwill, nicknamed the Bearded.
Group excursions - Nesvizh palace Radziwill
Individual and corporate excursions - Nesvizh palace Radziwill