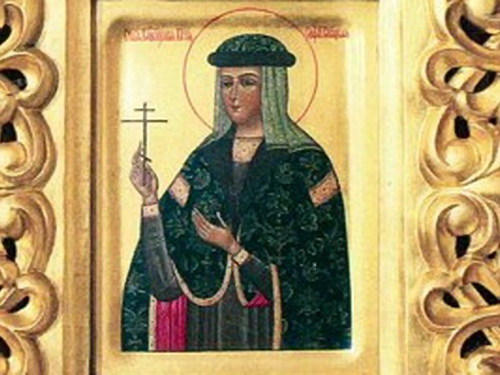 Legend "Sofia of Slutsk"
One of the shrines of the Cathedral in Minsk are the incorruptible relics of St. Sophia, granddaughter of Anastasia Slutsk.
Princess Sophia was the only daughter of Slutsk Prince Yuri Yuryevich III from marriage with the daughter of the Lithuanian grandee Catherine Tenchinskoi. Blessed Sophia was born on May 14, 1585, her mother died in the same year, and her father died on May 19 of the following year. After the death of her father, custody of the juvenile Sophia, who was left an orphan, was passed into the hands of her relatives: to the Brest elder, Jerome Chodkiewicz. Having indebted considerable sums of money to the Radzivill princes, the Chodkiewiczs decided to improve their position at the expense of guardianship. For these reasons, Khodkevichi and the princes of the Radziwills concluded a written transaction regarding the issuance of Princess Sofia Olelko, upon reaching her majority, for the son of Vilna governor Yanush Radzivil, Prince of Nesvizh. Princess Sophia Yuryevna at that time was 11 years old, and from that time she was already considered the bride of Janusz Radziwill. Over time, a disagreement arose between Khodkevichi and the Radzivils, which almost ended in bloodshed, and only the mediators sent by the king managed to prevent the massacre that was being prepared and to incline both sides to peace. According to the new deal, all the money claims of the Radzivils against the Chodkiewicz were destroyed, moreover the latter received a considerable sum of money and 500 land drafts in the form of ransom. It should be noted that Righteous Sophia made it a prerequisite for the children of this marriage, of both sexes, to be Orthodox. Sofia became a defender of Slutsk Orthodox shrines. It is thanks to her that Slutsk remained an Orthodox city. Sofia Slutskaya died at the age of 26 at childbirth. Her husband, Prince Janusz Radziwill, subsequently published letters of support for Orthodoxy, deeply respecting the traditions bequeathed to pious Sophia.
Sofia Slutskaya was ranked by the Orthodox Church as a saint. Her imperishable body can be seen in the Holy Spirit Cathedral, in the side niche to the left of the altar. They say that Saint Sophia always helps those who pray for pure and sincere love.
Individual and corporate excursions - Cathedral of the Holy Spirit
Dates on request
Duration: 03:30 hour
certified guide services
transport services

Dates on request
Duration: 02:30 hour
certified guide services