The international festival of arts Slavianski Bazar in Vitebsk
back to section Event tourism in Belarus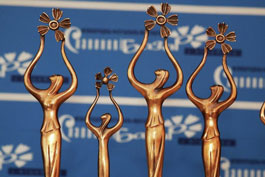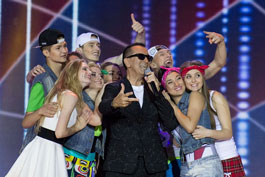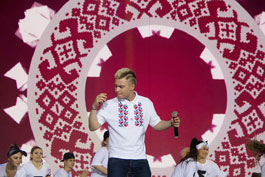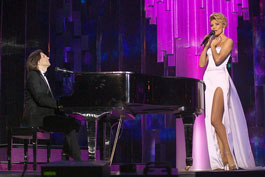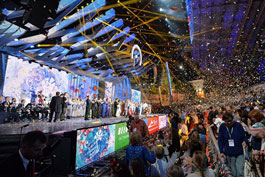 The international festival of arts «Slavianski Bazar» in Vitebsk was held first in 1992. The competition is organized by three countries Belarus, Russia, Ukraine. The idea of the festival is to unite the Slavic countries, the development of cultural ties between peoples. The basis of the festival was a contest of young performers of a popular song, which eventually transformed into a large-scale international festival «Slavianski Bazar» in Vitebsk. In 1998, the competition acquired the motto - «Through art - to peace and mutual understanding».
Annually within the framework of the festival there are opening and closing ceremonies; Assembled and solo concerts of the stars of Belarusian, Russian and Ukrainian music; International contest of young pop singers «Slavianski Bazar»; International Children's Music Competition «Vitebsk», exhibitions; Showing movies; Theatrical meetings. Since 2005, a good tradition has been the presentation of the state award «Through art - to peace and mutual understanding» to cultural and art figures who contributed to the strengthening of international cultural cooperation and the promotion of the achievements of the world artistic culture. So, high awards in different years were awarded to Alla Pugacheva, Alexandra Pakhmutova, Vladimir Mulyavin, Igor Luchenok.
In the program of the festival «Slavianski Bazar» in Vitebsk every year are traditional concerts of artists of Belarus, Russia and Ukraine; Solo concerts of pop stars - Grigory Leps, Valery Meladze, Stas Mikhailov, group «Spleen» and many others.
During the festival, the city itself comes to life. Here come artists, artists, artisans who arrange on the pedestrian streets of Vitebsk near the river West Dvina exhibition of his works. Various entertainment programs are held on the squares, and local institutions ready to provide all guests with tasty treats.
Tours to the International Festival of Arts «Slavianski Bazar» in Vitebsk
The Belarusian tour operator «Automated tourism technologies» offers the organization of tours for festivals, forums, festivals and other events on the territory of Belarus. At the service of our customers:
the development of an individual program of stay in Belarus;
booking bus and train tickets, air tickets;
group and individual transfers;
booking hotels, recreation centers;
tickets for events;
rest in Belarus;
excursion program for Belarus, as well as Belarus + the Baltic States, Belarus + Poland, Belarus + Ukraine;
cultural and entertainment program (visits to concerts, performances, competitions, performances, etc.)