Christmas balls in Mir Castle
back to section Event tourism in Belarus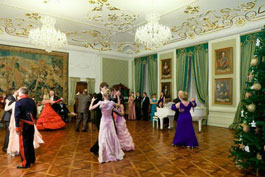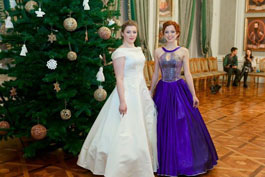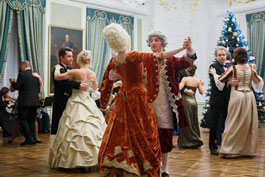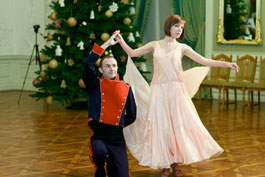 Christmas balls in Mir Castle are one of the brightest and unforgettable events in the cultural life of Belarus. A good tradition was the annual holding of such balls in a medieval castle. This event every year becomes more and more popular: the number of participants and viewers is steadily growing. In Mir town people come not only from Belarus, but also from abroad. Every year, Christmas balls are held according to a new scenario - the concept of the event is developed long before the event. Unchanged are the luxurious interiors of the Mir Castle, in which balls are held, as well as an unforgettable atmosphere created by court musicians and the owners of the castle.
In 2017 the Christmas Ball was given on the occasion of the Theophilia Name-day of Constantia Radziwill, the sister of Prince Pane Kohanka. Traditionally, the dances were organized in the Portrait Hall. The guests and participants of the celebration became the direct participants of the new fascinating program, which included dance, music and interactive numbers. During the ball, the participants were able to demonstrate their dance skills, as well as participate in a dance master class from real professionals. The hosts of the castle entertained and amazed the guests - Theophilia Constance Radziwill and Pane Kohanka.
Children's Christmas balls were also held at a hospitable Radzivil family. Theophilia and Pane Kokhanka in an easy game form taught the children the basics of ballroom dancing. The small guests of the castle took part in a masquerade ball, played fun games and contests, and also got acquainted with the real cast of the Mir Castle.
Tours for Christmas balls in Mir Castle
The Belarusian tour operator "Automated tourism technologies" offers the organization of tours for festivals, forums, festivals and other events on the territory of Belarus. At the service of our customers:
the development of an individual program of stay in Belarus;
booking bus and train tickets, air tickets;
group and individual transfers;
booking hotels, recreation centers, estates;
tickets for events;
rest in Belarus;
excursion program for Belarus, as well as Belarus + the Baltic States, Belarus + Poland, Belarus + Ukraine;
cultural and entertainment program (visits to concerts, performances, competitions, performances, etc.)