Belarusian Festival of People's Humor Avtyuki
back to section Event tourism in Belarus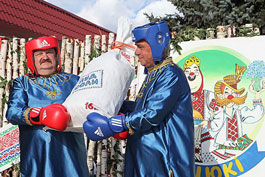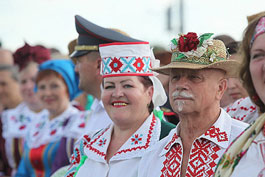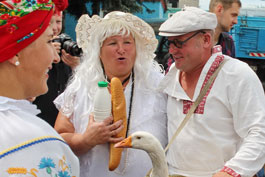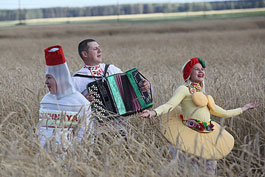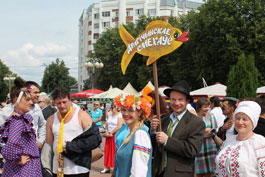 «Small Avtiuki compared to the Big Avtyuki a hundred hut more solid. Here you have the first joke.»
Festival in Avtiuki -this is a unique mass folk a holiday with a lot of entertainment, unique local humor, hearty rural kitchen where guests come from all over Belarus and not only. The holiday has been held in Avtyuki since 1995 and during this time put the name of the village under Kalinkovichi on a par with such recognized centers of humor as Gabrovo, Odessa and Sorochintsy. The festival is held every two years in the summer the villages of Bolshaya and Maly Avtyuki and the regional center of Kalinkovichi. The organizers are the Ministry of Culture, the Gomel Regional Executive Committee and Kalinkovichi district executive committee. Humorists from all over the country compete at the festival, as well as guests from Russia, Ukraine and Moldova. At the festival in Avtyuki everyone jokes everywhere - sellers pies with buyers, guests, contestants and jury, and even the police, checking handbags at the entrance.
The holiday traditionally takes place in July and opens with a ceremony of reconciliation between the «hostile» villages of Small and Big Avtyuki. In a programme festival folk humor, concerts, presentations tourist routes , youth disco, beauty contest «Miss Autuki», Avtukov Olympic Games, concert programs of creative teams, humorous monologues of Belarusian writers and satirists country house incendiary ditties from vocal ensemble «Victoria», a comic football match, the exhibition of retro cars «Autyukovsky Cars», an art fountain with an exhibition of cartoonists.
In addition to familiarity with folk humor at the festival there opportunity to meet national cuisine. On the main street The town of Kalinkavichy lined up themed farmsteads in the form of small village huts, where the locals Belarusian custom «entertain guests». Here you can taste hot bulb, sausages, cereals, pies, draniki, pancakes and pancakes, various baking The legendary autukovskiy moonshine «Ragatuha» became the hit of the gastroprogram.
For children, event organizers have provided a nursery the Avtyukovskiy Amusements platform, carousels, trampolines and inflatable towns, works exhibition with hamsters and rabbits. The photo zone and the Avtyuki Gallery is the eighth wonder of the world , where you can try on various humorous images. There is a lesson for everyone. shopaholics - folk artisans exhibit all sorts of wooden crafts, paper, straw, clay, wax, stone, a large selection of napkins, towels, straw hats and embroidered shirts. At the end of the event a gala concert is usually held with participation of representatives of the Belarusian amateur and fireworks.
If you want to feed yourself with positive emotions and energy, get acquainted with the natural humor, talents and the resourcefulness of the Poleshuk, to join the origins of the festive life of the people - Autyuki are waiting for you!
Tours to the All-Belarusian festival of folk humor «Avtyuki»
Belarusian tour operator «Automated tourism technologies» offers the organization of tours to festivals, forums, festivals and other events in Belarus. For our customers:
development of an individual program of stay in Belarus;
booking of bus and train tickets, air tickets;
group and individual transfers;
booking hotels;
event tickets;
holiday in Belarus;
excursion programacross Belarus, and also Belarus + Baltic, Belarus + Poland, Belarus + Ukraine;
cultural and entertainment program (attendance of concerts, performances, competitions, performances, etc.)