Draniki
back to article Gastronomic tours in Belarus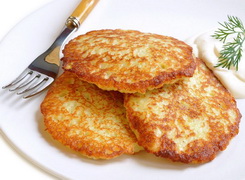 Draniki (potato pancakes) – one of the most famous and beloved dishes of Belarusian national cuisine. It is believed that for the first time this dish was mentioned in 1830 and appeared under the influence of German cuisine. In Belarus, draniki has become very popular since the 19th century.
Despite the fact that potato pancakes are prepared in different countries according to similar recipes, Belarusian draniki have gained fame due to their special taste, national culinary secrets and the properties of Belarusian potatoes - bulba. At the heart of traditional potatoes, there are potatoes, onions, salt, and vegetable oil for frying. Draniki are usually served hot with sour cream, butter, uzdor (melted lard) or machanka.

You can taste the dishes of the national Belarusian cuisine during one of the excursions organized by «Automated tourism technologies» travel company, joining a group excursion or ordering an individual excursion for your family, friends, colleagues.