Potato sausage
back to article Gastronomic tours in Belarus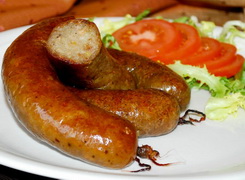 Potato sausage is a national Belarusian dish, also called a «bulba intestine». It appeared in the national cuisine of Belarus in the 19th century during the distribution of potatoes. The prototype of this dish was an even more ancient dish - a sausage made of blood and buckwheat in the pig's intestine. According to legend, the surname Kishkas of the influential magnate family came from the fact that the founder of the dynasty really liked this sausage. Also, there are recipes for such sausages with boiled pork, without blood.

Such a dish of grated potatoes and pork (bacon or meat) Belarussians regard as very tasty, simple and rich dish.

You can taste the dishes of the national Belarusian cuisine during one of the excursions organized by «Automated tourism technologies» travel company, joining a group excursion or ordering an individual excursion for your family, friends, colleagues.