Kulaga
back to article Gastronomic tours in Belarus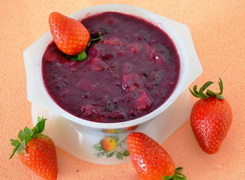 Kulaga is a Belarusian sweet dish consisting of fresh berries, honey and flour. Among berries, they can use blueberries, red bilberries, arrowwood berries, and also raspberry.

Kulaga is usually served cold, with pancakes, white bread and milk.

In Belarus, this dish was traditionally prepared for the Kupala holiday.

You can taste the dishes of the national Belarusian cuisine during one of the excursions organized by «Automated tourism technologies» travel company, joining a group excursion or ordering an individual excursion for your family, friends, colleagues.