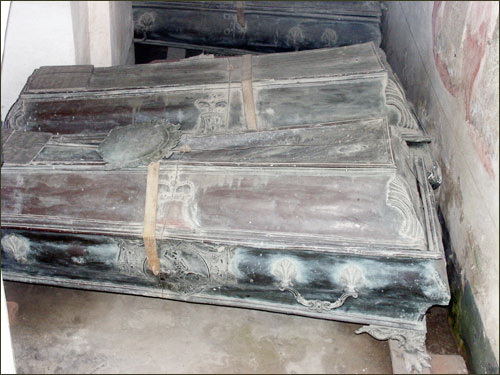 Legend "Crooked sarcophagus"
In the crypt of the Farny church in Nesvizh, in the family tomb of the Radziwills, stands the "сrooked sarcophagus". The legend says that the princess was buried in the sarcophagus with a protruding "hump", who fell in love with a simple man and died because of this. The girl ran away from the ball when they were going to betroth her with an Austrian prince. Loved one had to wait for her with clothes and sleds to escape from the castle together. But the relatives of the princess learned about the plot of lovers. The young man was caught and put in the tower. The princess, not knowing this, in a ball gown ran out into the bitter cold and rushed off to the agreed meeting place in light shoes in the snow. Waiting for her beloved, she froze cold and was so numb that she could not be put into a regular coffin and had to bury her in a sitting position.
In 1954, a government commission found in a "сrooked" sarcophagus, not a young princess, but an elderly princess who had children and grandchildren. Wreaths spoke about this with the inscription: "To dear grandmother from children and grandchildren", put on a metal coffin. The Hump was created by a vase with metallic flowers, screwed to an inner coffin.
Group excursions - Nesvizh Church (Church of Jesuits)
Individual and corporate excursions - Nesvizh Church (Church of Jesuits)