Zrazy
back to article Gastronomic tours in Belarus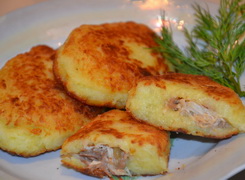 Zrazy is a traditional Belarusian dish, meat rolls with a filling. This is one of the special dishes since the time of the Grand Duchy of Lithuania. For the first time, zrazy were mentioned during the reign of the Grand Duke and King Jogaila (the 14 -15th centuries).
This tasty dish was also served at the table of King Sigismund II, married to the Princess of Milan Bona Sforza, who liked the zrazy reminiscent of the Italian dish «cotoletta alla milanese». Later, zrazy became popular in the folk cuisine. In different regions of Belarus, these meat rolls with filling also have the names «zavivantsy», «krucheniki».
Classic zrazy are made from beef: meat is beaten, and then the filling is wrapped in it. For its preparation, they can use mushrooms, liver, vegetables, eggs, porridges.
You can taste the dishes of the national Belarusian cuisine during one of the excursions organized by «Automated tourism technologies» travel company, joining a group excursion or ordering an individual excursion for your family, friends, colleagues.